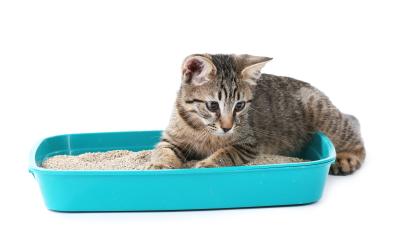 Cat Litter
Let's talk about doing the business. The bathroom business.

An essential item for any indoor cat owner, zooplus has the best offers on the best cat litter brands out there.
Including customer favourites such as
World's Best Cat Litter
,
Tigerino
,
Catsan
and more, we'll have the perfect kitty litter product for you and your cat's needs.
The Best Cat Litter Brands

Not sure which cat litter brand is right for you? Why not explore our kitty litter range by type?

Our Top Cat Litter Picks!
Here are our top 3 favourite cat litters, for happy and accident-free homes:
Catsan Hygiene: This clever non-clumping cat litter is made from fine grains of chalk and quartz, keeping your cat tray dry and hygienic.
World's Best Cat Litter Lavender: This 100% natural litter is made from biodegradable maize for efficient odour-binding and fast-clumping action. We've opted for the lavender scented option to keep your home smelling fresh.
Golden Grey Cat Litter: This clumping clay-based cat litter is a natural, super absorbant option that forms easy-to-dispose-of clumps to make it even more economical.
And let's not forget our little ones! Take a look at our range of
Kitten Litter Products
, featuring a wide range of kitten specific litters, smaller litter trays to allow kitten access, scoops and sprays. Help teach your kitten the ways of the litter box and make it an enjoyable, effortless experience for all with this wide range of kitty litter products. We also have a great range of
cat litter boxes and trays
, perfect for keeping your home accident free!
Back to the top